What is the BioMat?
The BioMat is a product designed by The Amethyst Richway Company that helps to heat the body using Far InfraRed heat and Negative Ions, a natural and healthy way to help relieve many issues.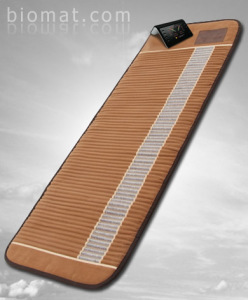 This Mat can be used for a variety of reasons, but in addiction to Neurofeedback it can help remove toxins which may contribute to neurological illnesses. This Mat may also be used as a standalone for non-mental illness based issues in my practice. For more information, please see BioMat.com >>>
What Does It Help With?
Sports and recreational injuries
Post-surgery healing
Circulatory issues
Age-related muscle and joint pain
Arthritis, neuralgia, and bursitis
Chronic neck and back pain, and related headaches
Build-up of toxicity and oxidants, including heavy metals, residual alcohol, nicotine, sodium, sulfuric acid and cholesterol
Immunodeficiency and weak immune system
Anxiety, sleep irregularity, and insomnia
How Long Is Each Session?
Each person responds differently to the BioMat. It can be used for a few minutes with another modality (Talk Therapy/Neurofeedback), or about 30 minutes while during Talk Therapy. If the session is only conducted for this use, then it can be used for up to 30 minutes. Though more sensitive/high detox people will only be able to handle a few minutes of this at a time when starting, the benefit will be the same as if on for 30 minutes for another person. It is important to drink plenty of water before and after using this Mat.